History of the German Shepherd Dog
Founding Breeders- First Sieger

At the beginning stood men of passion:
(L-R) Otto Weber, Schafmeister [sheep expert] from Saxony, his colleague Goyman, Rittmeister von Stephanitz, and Arnold, also a Schafmeister from Saxony.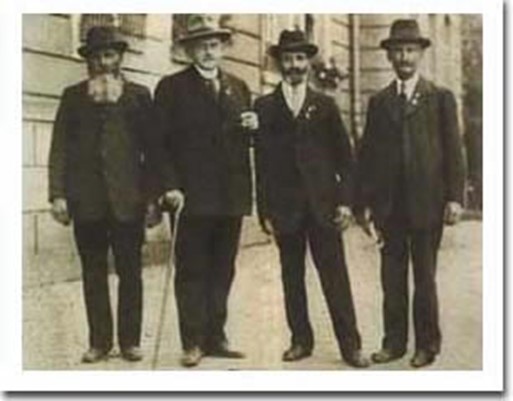 Glancing through the first Breed Books of the organization formed by Stephanitz is as exciting as researching the ancestral records and genealogies of European royalty. We discover how an old breed gained a new look.
In the year 1900 dog people behaved much like today's politicians embroiled in campaigning with mud slinging and personal insults. The opponent's common sense and national pride came under attack in books, pamphlets, and at shows.
In his book "German Dogs" published in Munich the cynologist [gr. cyno= dog, logos= study; the study of canines] Richard Strebel lamented, "When will we Germans finally learn to value what we produce at home?" With respect to German Shepherd Dogs he envisioned a model borrowed from British Collie breeders.
He felt that there should be at least two separate breeds - one being the luxury model for urbanites and the upper classes, some of whom, in the form of minor royalty, owners of hunting estates, and retired sea captains, had already expressed an interest in such animals. The second breed should live in the country - with sheep herders and farmers. He thought it meaningful to suggest three "classes or sub-classes": wirehair, stock hair, and longhair.
These assessments were shared by the other great canine researcher of that time, Ludwig Beckman of Düsseldorf, a painter of hunting scenes and animals. The only difference between these two influential men was Beckman's categorical insistence that the three "classes" of dogs proposed by Strebel would have to be "separated into three completely different breeds ".
An entirely different decision was made by Max von Stephanitz, president of the "mightily blossoming Verein für Deutsche Schäferhunde (S.V.)" as noted rather tartly by Strebel in 1905.
The man "of legendary vision in matters of club politics" held the opinion that only one breed should be fashioned from suitable lines within the Reich.
This tribute, bestowed upon its founder by the SV, was amplified in 1969 with accolades still valid in our 100th anniversary year. "In those days the Rittmeister thrust open doors which lead to German and international study of dogs, studies which were then just germinating but sprouted under his tutelage to bloom into their first Spring." He chose the Herding Dog [Hütehund] of Württemberg and Thuringia-Saxony as foundation for the German Shepherd Dog breed.
In the Brenz valley in Württemberg were two breeding kennels of old standing: "v.d. Krone" in Heidenheim and "vom Brenztal" in Giengen. Saxony was the home of the HGH kennel "vom Klostermansfeld" [Monk's Field].
While a larger, stronger, more utilitarian dog was preferred in Württemberg the dogs of central Germany were of a slighter build. A combination of the two forms was soon achieved under the influence of the SV.
Entries in the early Breed Books focused largely on the external characteristics of the breed standard. Representative dogs from many well-known and unknown lines are listed with an emphasis on Herding Utility dogs deemed suitable for breeding. The kennel "von der Krone", owned by Anton Eiselen of Heidenheim, is shown most often in the first few volumes.

Hence, the pairing of SV dog No.1 "Horand von Grafrath" with different bitches from the Krone kennel founded many of the Horand lines. A closer look into those years is well worth it. As far back as 1900/01 Horand, winning First Place in Karslruhe in 1899, produced a Sieger who would become an significant influence in GSD breeding. This was his son "Hektor von Schwaben", SZ 13, out of an unknown bitch "Mores Plieningen", SZ 159 (owner Franz of Werra). "Hektor von Schwaben" was a medium tall, long bodied dog on a good trotting frame, noble in appearance. One of his sons out of "Flora I von Karlsruhe" became the 1903 Sieger: "Roland v. Park" (formerly "vom Goldsteintal"), SZ 245, a dog whose build, the "structural form", embodied the correct utility dog characteristics.


The club learns from experience

One of Hektor's sons was Beowulf, SZ 10, out of the Horand daughter "Thekla von der Krone". He sired "Heinz von Starkenburg" whose son, the 1906/07 Sieger "Roland von Starkenburg", SZ 1537, is well known to the GSD breeding community.
Roland was the product of very close inbreeding and although, in appearance, he was the most beautiful dog of that time, his temperament left much to be desired. Stephanitz blamed incorrect handling in his critical observation that the owner, Spielman, mollycoddled "his dear little Roland".

VA-Erich von Grafenwerth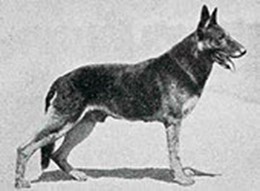 Nonetheless, this dog frequently stood at stud because of his superior form. His top son was the 1909 Sieger "Hettel Uckermark", SZ 3897. Through his son "Alex v. Westfahlenheim" Hettel produced the 1920 Sieger, "Erich von Grafenwerth", PH, SZ 71141. It is unfortunate that this Sieger also inherited the temperament faults of his father and great-grandfather.
This after-the-fact realization brought an immediate response from the club: temperament testing at trials, shows, and breed surveys was tightened. Erich's top son "Klodo vom Boxberg", SZ 135239, took the Sieger title in 1925. Stephanitz chose a dog whose measurements represented the correct type of medium size. Previous Sieger titles had been given to dogs at the upper size limits. This was also true for his [Klodo's] son "Utz v. Haus Schütting", two-thirds inbred on "Erich v. Grafenwerth", the beauty winner. His breeder, Dr. Werner Funk of Hannover, had attempted to moderate the temperament faults of the paternal line by blending it with the sound temperament of the maternal Horst line.
The last Sieger in this succession was "Hussan vom Haus Schütting", ZPr., SZ 375476. The "Glockenbrink" line is an outcross leading back to "Erich v. Grafenwerth". Erich [v.Glockenbrink] was a dog of correct structure and temperament within the utility dog type. He became Sieger in 1926 and 1928.


Breeding progress continues to improve quality

One of the Horand lines, through "Graf Eberhard vom Hohen Esp", SZ 1135, produced the 1908 Sieger "Luchs vom Kalsmunt Wetzlar", SZ 3371. This line was continued through two Luchs sons, one of whom was "Wotan vom Emstal", SZ 6813, the 1910 Sieger in Dortmund. A sensation-causing 280 entries were recorded at this show! The Open Class alone had 72 males entered. Another branch of the Graf Eberhard line, through "Munko von Boll", led to "Horst von Boll", PH, SZ 8306.
"Horst von Boll" was most commonly used in his home region in Württenberg. The "vom Blasienberg" kennel, owned by Tobias Ott in Bietigheim, owes its well temperamented, solidly built, "dry" dogs to Horst. It is true that the various Horand lines were overused in those first decades of the breed. Max v. Stephanitz recognized the danger inherent in close line breeding and changed his breeding program to outcross with minimally related dogs who were healthy and hardy with an excellent temperament.
Like-minded breeders supported him in that they brought together utility dogs from distant branches of the diverse working lines and formed the highlines so advantageous to the breed. This was a significant contribution to the future development of the breed. It is worthwhile to examine the anatomical development of the German Shepherd Dog.

Initially the breed standard specified a height of 50-55 cm for females and 55-60cm for males. However, just a few years after commencing a goal-oriented breeding program these specifications could no longer be adhered to. The upper limits were raised to 55-60 cm for females and 60-65 cm for males.
While all of the early top dogs were of pleasing form it was now time to make structural improvements in the general GSD population. Massive heads with weak or "friendly" ears were rejected. Other characteristics unsuitable to the breed standard were poor tail carriage, angled and curved tails, and curled tips.
The perpetuation of such faults had to be carefully avoided in each breeding. That which didn't please was immediately apparent and that which pleased found quick and unanimous definition: noble heads with dark eyes, upright ears and saber-straight tails were to be the markings which characterized the animals of the SV.
The basic components to meet these goals had been present in the breed from its beginning. Herding work had defined it: its "structure" was, in general, acceptable. Its front was consistently well formed and only rarely did one find weak pasterns.
Occasionally the rear left something to be desired and still missing was good overall angulation, the proper positioning of joints. This was important because it produces the typical motion of the breed and was a prerequisite to achieve correct movement in German Shepherd Dogs.


Breeder diligence and knowledge brought about change

The first over-sized dogs were noted as far back as 1909. Dogs heavily used in breeding such as "Hettel Uckermark" and "Horst von Boll" exceeded the size limits. The taller dogs were also heavier which was detrimental to their overall agility. On the other end of the spectrum were the toe walkers, dogs with narrow, receding chests who no longer had any resemblance to the utility dog characteristics.
Breeding activities during the post-WW I inflationary period contributed to the increased numbers of these apparitions.

VA-Klodo vom Boxberg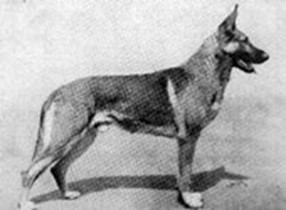 At the 1925 Sieger show Stephanitz chose "Klodo vom Boxberg", an animal of only medium size, much to the consternation of owners who had entered the larger dogs. Thus he demonstrated to his club members how the typical German Shepherd Dog was expected to look.
The lesson was quickly learned. Overly large dogs were rarely seen in subsequent years and had not been admitted to breed surveys in some time.

During the '30s and '40s there repeatedly appeared under-sized animals which were to be "Mendeled out" — eliminated from the gene pool — with equal fervor. It was this very group of dogs which, as a rule, lacked substance and bone strength and had overly refined heads.
The club went to battle against what they felt was a degeneration in appearance and functionality and, not surprisingly, brought itself squarely into dissent with many breeders.

Stephanitz and his loyalists prevailed. They cautioned against breeding dogs who received show evaluations of a kind which diminished their appeal to the breeding program. That they were excluded from breed surveys was a given. Dogs with tooth- and testicular faults were dealt with in the same manner.

Yesterday's Truth still holds to this day: the breeding goal was, is, and always will be the "normal dog" defined by the breed standard.
Translation copyright 2000 by Eclectic Translations. The translator gratefully acknowledges historical research provided by Bits & Bytes GSD Pedigree Research.